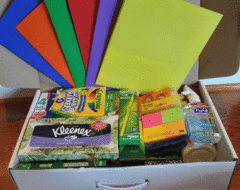 Virtual Learning + Homeschool Kit
Virtual Learning & Homeschool Supply Kits
Sprout School Supplies is proud to help support parents and students with all types of virtual and homeschool learning.
Each individually packaged student kit includes all the generally requested school supplies and essentials for each grade level and FREE delivery to your home!
Are you a school district?
We give multi-school discounts.  Contact us for a quotation that fits your particular needs.
Are you a small school of less than 20 students per grade level?  Call us to receive a small school discount coupon.