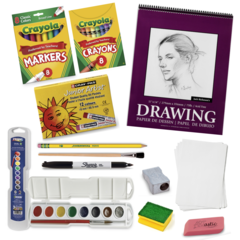 Art at Home - Student Art Supply Kit
The Art-at-Home Student Art Supply Kit contains those art supplies that each student will need to perform the Art-at-Home lessons. It supports all 3 of the Art-at-Home programs - Grades K2, Grades 3-5, and Grades 6-8.
When ordering this product, please be sure to order one kit for each student who will be doing the program. This can most easily be done by executing the following steps:
1. Add one supply kit to the cart.
2. Click on CART in upper right to take you to your shopping cart.
3. Adjust the quantity of supply kits to fit your requirements.
4. Click on update at the bottom of the page. (Important)
5. Proceed to Check-Out.
Shipping costs will be $30 per order, independent of the number of kits ordered.