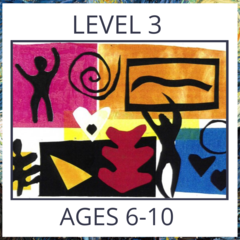 Atelier - Level 3 (ages 6-10)
Designed for ages 6-10, Level 3 is a full year of visual art instruction. Students will build and develop a foundation of skills by learning and working through the essential elements and principles of art including: line, color, space, shape, form, texture, pattern, balance and emphasis. Level 3 also includes art-history, media exploration, creative self-expression, and much more.
Included with the family package is the Level 3 Online Great Art Appreciation Program (10 Great Masters Art Images and Discussion Guides).
The enriched family package option also includes the Great Masters Virtual Museum. This virtual museum contains at least 90 artworks displayed in 7 galleries, along with discussion guides for each artwork. It is designed for those families who wish to include an enriched art appreciation and art history component with their studio art lessons.