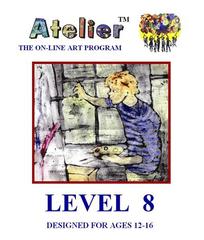 Atelier DVD - Level 8 (ages 12-16)
Designed for ages 12-16, Level 8 is a full year of visual art instruction. Students will build and develop a foundation of skills by learning and working through the essential elements and principles of art including: line, color, space, shape, form, texture, pattern, balance and emphasis. Level 8 also includes art-history, media exploration, creative self-expression, cultural appreciation, right-brain drawing techniques, and much more.
Level 8 is available in one of two options: Option 1, the Basic Program, includes the instructional DVD's and Parent's Manual. Option 2, the Enriched Program, includes the DVD's and Parents Manual plus a 3-year subscription to the Level 8 Online Art Image Program (OAIP).
The Level 8 Online Art Image Program (OAIP) offers 10 Great Masters Art Images, along with discussion guides, that are used to enrich the lessons and to help students connect the art elements, techniques and skills that they are using to those used by the great masters.