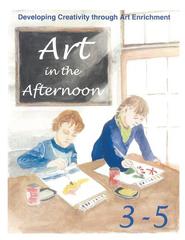 Art in the Afternoon Online - Grades 3-5
The Art in the Afternoon Online Grades 3-5 program bundle provides an age-appropriate balanced approach to teaching art in the intermediate grades – emphasizing both the fundamentals of art and creative expression. Taught to the right side of the brain, it covers the art elements and principles, drawing technique, self-expression, artist appreciation, art history, multi-cultural art, and media diversity. Filmed in the classroom, each grade level includes instructional video (shown to the students and featuring classroom demonstrations by other students), a digital art image program with discussion guides, lesson plans, student drawing aids, teacher reference materials and much more. Being video-based, it can be taught by teachers or parents with little or no art or art education background, as well as by those with considerable art education training – achieving exceptional results in both cases.
For a more detailed description of the content of grades 3, 4, or 5, please click on those individual grade levels (previous page) and refer to the grade level descriptions.
As shown below, the per school pricing of Art in the Afternoon Online Grades 3-5 varies depending on the number of classrooms that will be using the program. Pricing for up to 3 classrooms per grade per school is shown below. If your school has more than 3 classrooms per grade, please contact us for a quote tailored to your specific requirements.
Are you a school district?
We give multi-school discounts.  Contact us for a quotation that fits your particular needs.
Are you a small school of less than 20 students per grade level?  Call us to receive a small school discount coupon.